Dental
Implant
North Haven Family Dentistry is a great choice for your dental care. If you are experiencing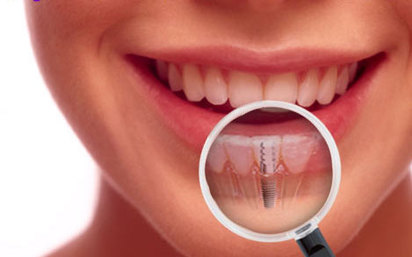 any kind of issues with a broken or badly damaged tooth, we can help you. We can discuss the option of dental implants and if they would be the best choice for your treatment.
What are Dental Implants?
You may be wondering what dental implants are. They are artificial tooth roots implanted by an implant dentist. These implants act as a permanent base replacement for severely damaged teeth.
Dental implants are made to be stable and strong. They will look, feel, function, and fit your natural tooth. Adjustments may need made, yet implants are designed to last a lifetime when taken care of the right way.
When are Dental Implants Used?
Now that you know what dental implants are, you may want to know if you need them. There are many different reasons that having dental implants could be beneficial.
Some reasons dental implants may be a good option for you include:
missing tooth or teeth
broken or damaged teeth
partials or dentures that have become loose
infected tooth that needs pulled
Smile insecurity
Difficulty chewing food
And more
We always recommend you consult with your dentist if you are questioning any kind of dental work. This include dental implants. They will help you decide if you need them or not.
Materials that Make Dental Implants
There are two different materials that dental implants can be made from. These two options are zirconia and titanium. Both of these materials are completely safe options. They are both biocompatible and approved by the FDA.
While Titanium implants are metallic, Zirconia implants are made of ceramic. While ceramic may be more favorable for some, keep in mind that they can break easier than titanium. This is one of the reasons the zirconia implants have a higher failure rate.
How Can We Help?
If you think you may be in need of a dental implant, or any other dental services, give us a call (972) 233-1906  today. We'd love to see you soon!